SHIMAZAKURA FRIENDS

KIMONO PHOTO GALLERY
~ Share your Kimono Styling Photos HERE ~



Konnichiwa, Thank you for the prompt service during this difficult time of C-19. Due to social distancing the summer events were canceled, so I decided to celebrate at home keeping the tradition alive in honor or Obaasan. My beautiful new Yukata and Obi arrived and couldn't wait to wear it! I tried my Obi in a new way to show off the elegant flower at the end of Obi.
Arigato,
Geri san / Seattle, Washington USA

*** Models : 5'10" and 5'11"(177cm and 181 cm) wearing size L Jinbei & Samue



I just received the jinbei and samui I purchased from Shimazakura, and I am so pleased! The quality is amazing and wonderful. My husband and his twin(my brother-in-law) are celebrating their 29th birthday on the 27th of October, and their birthday presents arrived well in advance.They both love Japan and Japanese culture, and have often mentioned how they admire Japanese leisure-wear and traditional outdoor work-wear.My husband traveled to Japan for the first time last year, and he spent almost 30 days traveling from Narita to Hokkaido, then down to Fukuoka and Nagasaki. He visited shrines, temples, Universal Studios in Osaka, and spent most of his time hiking and camping outdoors. He enjoyed staying in hostels and he even stayed in a capsule hotel! He loved Motohakone most of all, as it reminded him of mountain town in the animated film Kimi no Na Wa. He took so many pictures, and we are dedicating an entire scrapbook photo album to his trip! I have loved Japanese culture and history since I was a young girl, and I am so happy my husband loves it, too. I did not travel with him last year, as my job did not allow me to have a vacation.I became pregnant this year, and we are expecting our first child—a boy!—on November 25th. We are planning to take an international trip from Colorado, USA to Japan next year, around the time our baby is 1 year old.I am most assuredly planning to purchase more clothing from Shimazakura in preparation for our baby's 1st birthday and I cannot contain my excitement and anticipation for our trip to Japan next year.

Much love from Colorado,

Hannah san / Colorado USA
---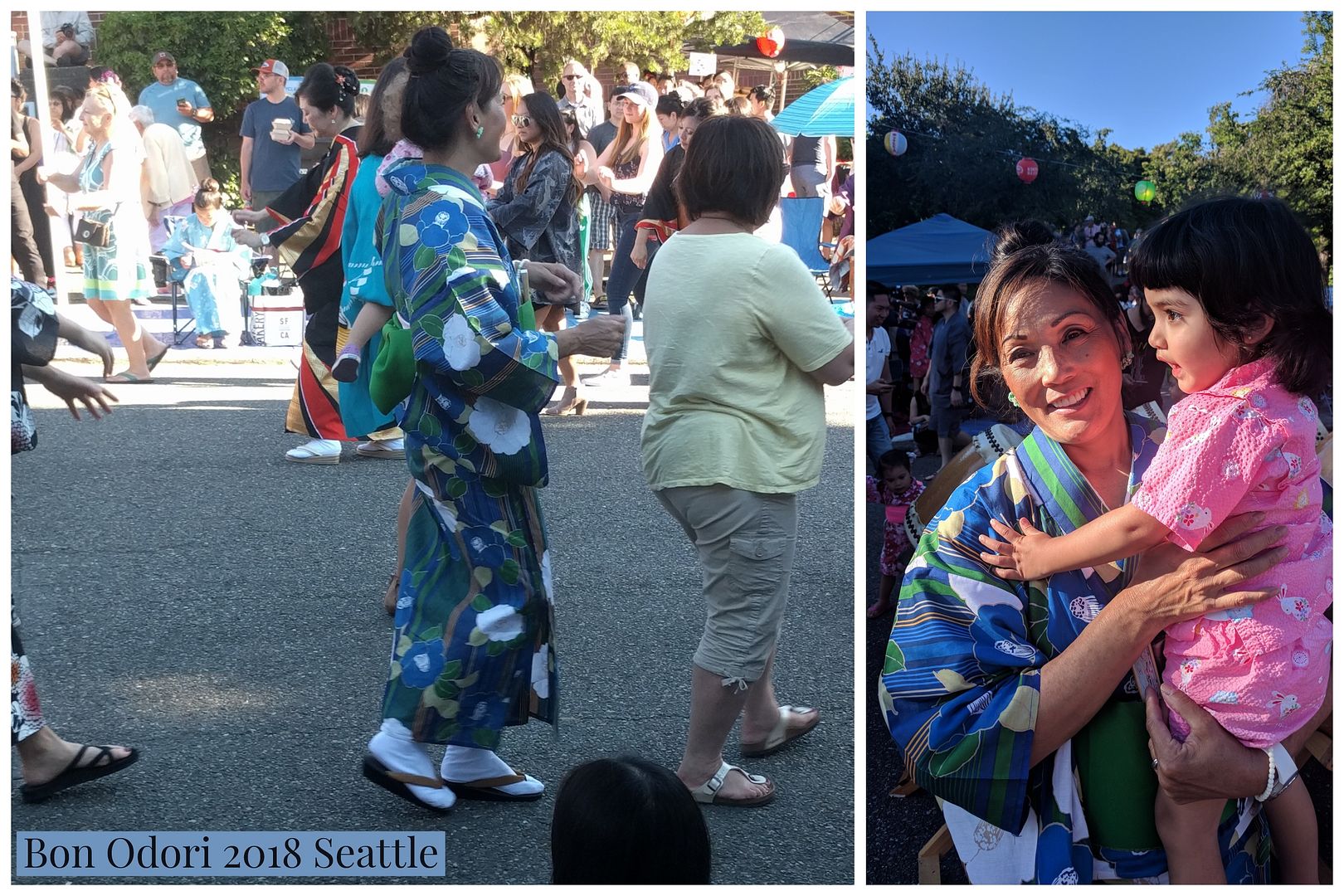 Konnichiwa, I enjoyed wearing and dancing in my new Yukata Kimono at this years 2018 Bon Odori.
The colors were beautiful on a nice day in Seattle. Arigatougozaimasu.
Geri san / Seattle, Washington USA
---
Hello! My name is Yicong, I'm currently living in Portland, Oregon. At these days, Cherry blossom trees are blooming so well at Portland. I really want to take a shot with those pretty sakura, and that's why I purchased my first yukata set "Ohanami" at Shimazakura. This was a wonderful experience of shopping kimono, the pattern of it is very cute. I like the color of my "Ohanami," and I think the quality is very good as well. All of my friends said that this yukata looked so pretty on me. So I'm here sharing these photos to you. And, thank you, Shimazakura! I'll definetly come back and buy more kimonos!
Yicong Yan san / Portland, Oregon USA
---
Here are the pictures of my 7 year old daughters in their new Yukatas.
Jenn san / USA
---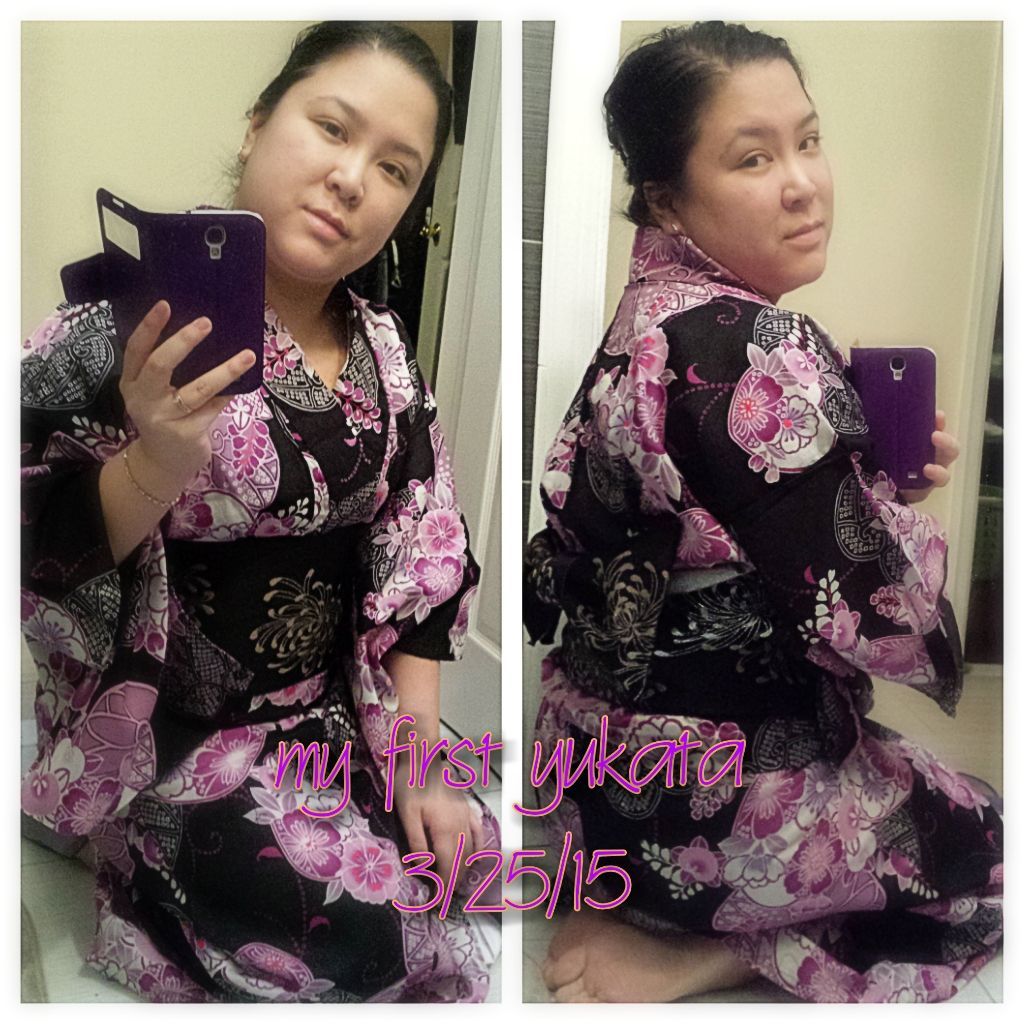 S
himazakura team,
Thank you so much for adding a personal touch to my shopping experience! Tha shipping was really fast! I really appreciate the hand written note and gift! It is the perfect gift to go with my yukata! The koshihimo matched nicely and it is a great quality! I cannot wait to wear it this summer! Great communication and very accommodating. I hope to be a repeating customer and hopefully I can catch more items before they are "sold out"! You have very nice selections and it would be nice if you can stock more tabi socks!
ElegantT san / USA
---
Hello! My name is Arli Sierra and I live in California, United States. I've been wanting to wear a Kimono or Yukata since forever! I finally was able to get a Kimono in Los Angeles but I wasn't able to find a Obi sash and than I find this online shop! I have to say, the products here are simply beautiful! Not
only that, but this place is really great with giving out information, responding to questions, and even shipping! I didn'
t have to wait even five days and I already was able to receive my Obi sash! Needless to say, I am very happy with my product. Even that small handwritten letter they sent with the package just made my day even better~ Five Golden stars to this shop!~ I will come back and buy from this shop again!~
Arli san / California USA
---
I know it wasn't easy to dress her but you did a great job!! Thank you so much we really appreciate your kindness and patience!! Her father is part Japanese and is deployed right now and he loves the kimono! Thank you again!

Nicole san / USA
---
Thank you for my very first Jinbei. I will cherish this with gratitude. Namaste.
Patrick san / USA
---
She is 10 months old and is enjoying the her first Sakura Festival.
Her favorite part was playing with the water balloons and handing them to other people.
She got lots of complements on her jinbei. Thank you your all that you do.
Selena chan / Denver, Colorado USA
---
Good Morning, Thank you for the outstanding product. I wore my kimono with my hakama and shitagi to my iaido class. My senpai approved. Arigatougozaimasu!
Vincent Chan san / San Bruto, California USA
---
Konnichiwa Shimazakura san! Today, I picked up my samue. It looks really nice. Thanx a lot - and of course for your gift. Arigatou gozaimasu! Much success and all the best.
Renato san / Cologne, Germany
---
Just finished our summer Bon Odori here in Seattle. The weather was beautiful along with all the colorful kimonos. Here are a few photos of Bon Odori along with a few at the Seattle Japanese Gardens.
Geri san / Seattle, USA
---
Here's my daughter in her beautiful new Jinbei, all dresses up for my school's multicultural night. She was a big hit! Thanks so much!
Siobhan san and Baby / USA
---
Konnichiwa! We had fun with our recent purchase of a kimono from your lovely shop. Here is a picture of my wife "cosplaying" Rukia Kuchiki of the anime BLEACH (366 episodes!!) Have a great day!
John san & Wiangfa san / USA
---
Hello, thank you so much for shipping my yukata and haori! I am 110% satisfied with my purchase! Antique Women's Haori (komon print, pink and gold silk with pink striped lining) for Aki Matsuri 2012 (japanese Fall Festival)
Poppy san / Austin, Texas USA
---
My daughter's first Jinbei and already she really likes wearing it. She loves it. Thanks.
Natashia san / Wesson, MS USA
---
Thank you very much! We loved our daughter's first Jinbei! It is really good quality and well made. It was also shipped to us quickly. She was also very comfortable in it an was able to crawl all over the place!
Mika san / USA
---

Our daughter loves to wear yukatas. It is a special way for he to connect with her heritage.
Fusako san / Arizona, USA
---
Hello, Thank you very much for the great & personal service! I love the handwritten note! I hope you enjoy the photos attached.
Donna san / USA
---
Kyouya san / USA
---
Hi! This is my newest kimono, it is beautiful lavender with wave patterns woven into it. I started taking Japanese Dance two years ago, its so much fun! Its wonderful to have such a reliable place to find kimonos and accessories in the US! Thanks
Carter san / USA
---
This is my first yukata and I didn't wear it wrong. The reason it looks like right over left is because I take the picture from the mirror =P My yukata has pink, black, and white cherry blossoms with a black/red obi. I didn't have a full photo shot for the whole out fit because no one wants to take a picture of me lol
Stephanie san / Newton, MA USA
---
This is a picture a friend took of me a t the Japanese Friendship Gardens, my boyfriend got this for me off of this site a year ago.
Britney san / USA
---
This is my very first yukata. It was sent to me by a very good friend of mine who is now my kind and loving husband.
Utsana san / Australia
---

Lissie san / USA
---
I love it, thanks again and I will continue to check up on the site for more beautiful kimonos.
Heather san / USA
---
Kimono is not of any brand. It is my work. Some goes for the hair equipment.
Tessia san / Slovakia
---
Konnichiwa! This is our daughter Naomi Kako Maddocks. She is 2 months old. We love the kimono and can't wait to purchase another one.
Jared san , Chantal san , and Naomi chan / USA
---
Here is a photo of the pink nagoya obi and obijime I recently purchased.
Bethanee san / USA
---
Dear Shimazakura. Here is a photo of my husband tetsuo and me in a Japanese garden. I love wearing kimono. Thank you! Japanese Garden Photo in Southern Japan.
Martha sann / Louisiana USA
---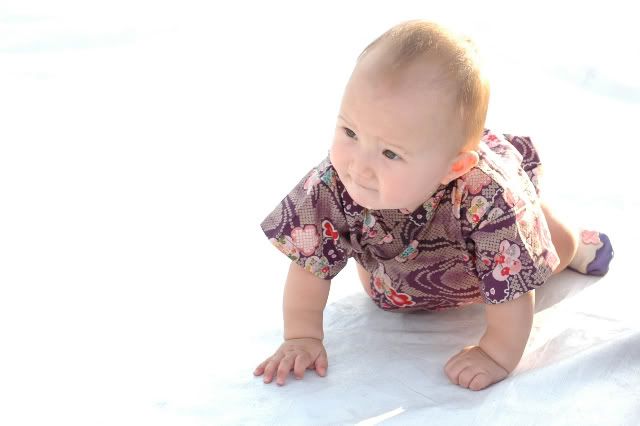 Hello,When I purchased a jinbei for my daughter this summer, I received a friendly note asking to send back a photo of her. Her is a photo of my daughter Beatrix at the Obon at the Oregon Buddhist Temple in Portland, OR. She is nine-months old in this photo. Thank you for selling such beautiful items! arigato,
Tara san / USA
---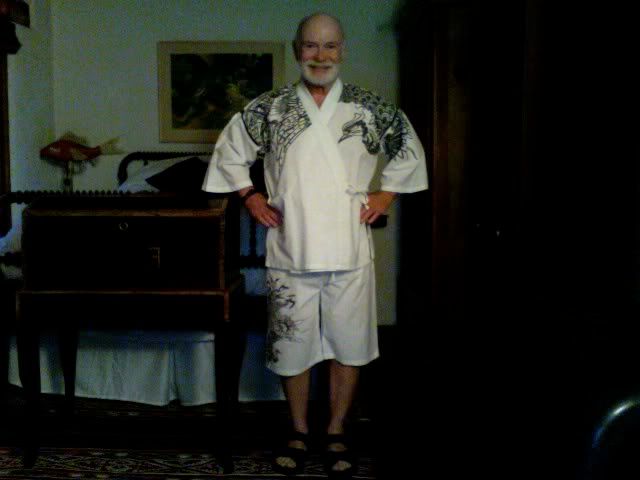 I live in the high desert (7,400feet) in Santa Fe New Mexico, and the Jinbei is perfect for afternoon and evening wear around the house, patio, or immediate compound of houses in the late spring, summer, and early fall.

George san / Santa Fe New Mexico USA
---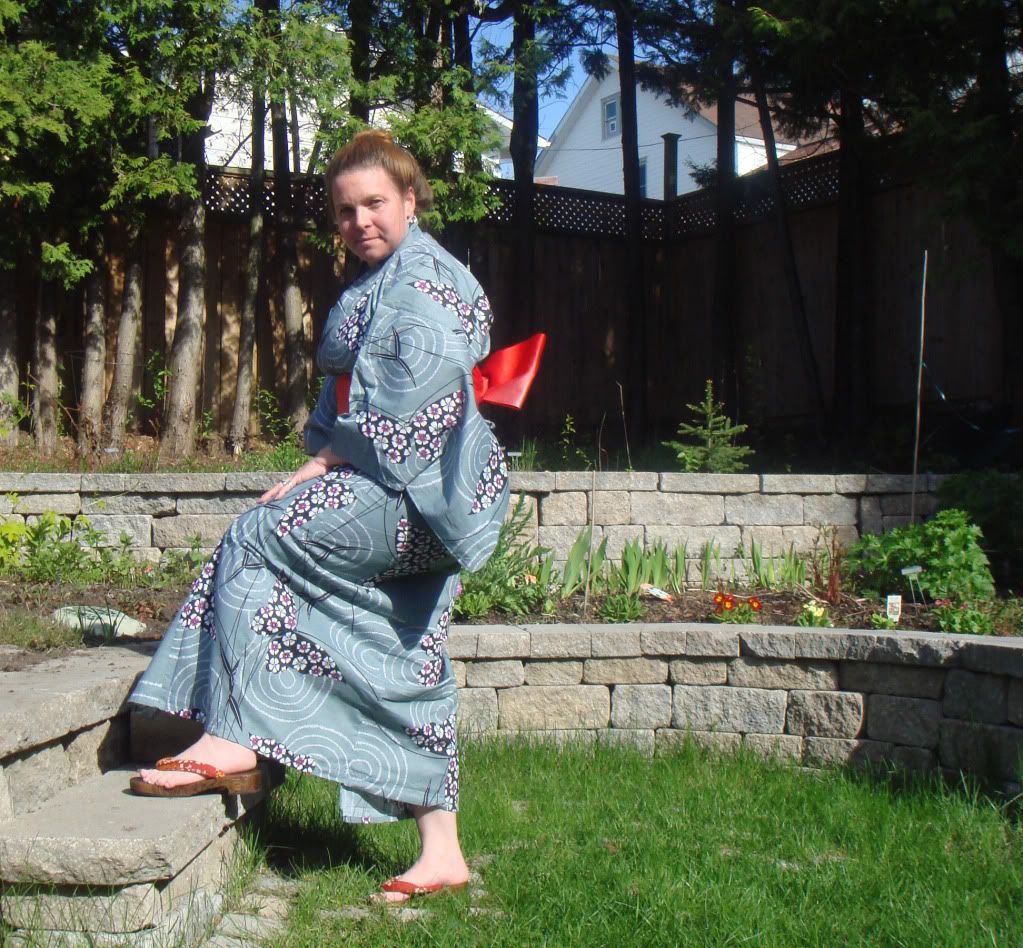 First Butterflies in the garden.
Kira san / Ontario Canada
---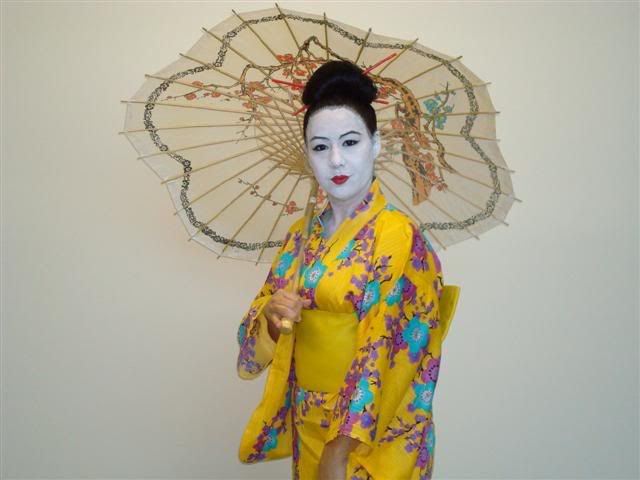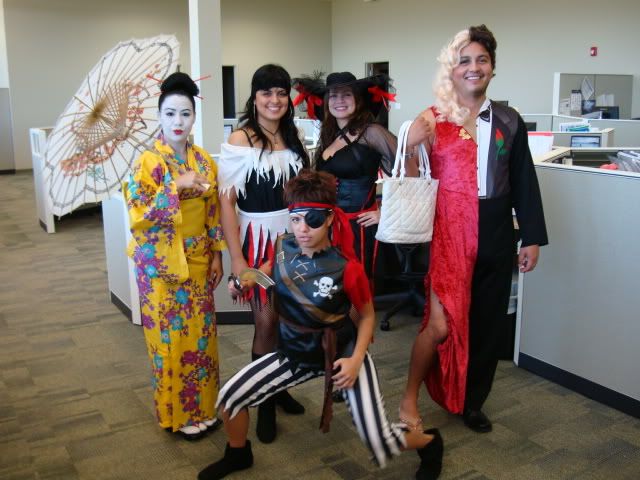 Hi, Shimazakura. Here are my pictures about my costume event.
Kissy san / USA
---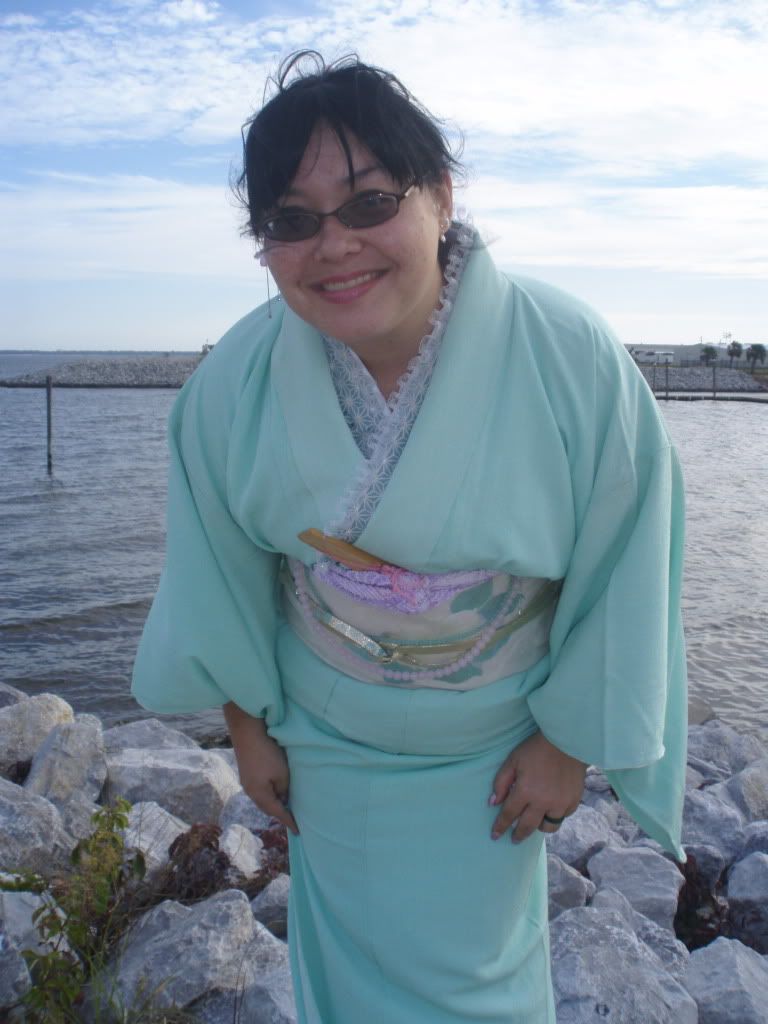 Ibought practically my whole outfit from you guys at Japanfest i love this antique seafoam green Iromuji! i think it's my second favorite color to Purple! thank you so much! you were so friendly and nice! ^__^
Aichan san / USA
---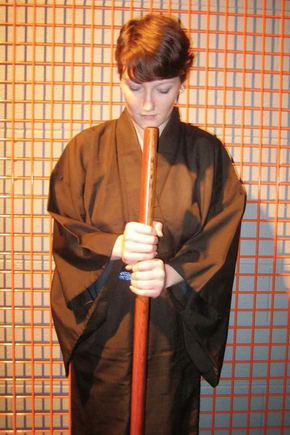 Here are some photos of the kimono I bought from you guys a while ago. It was used in a small theatrical performance. Mostly I use it as reference material while I am trying to design, make, and sew my own kimono for a 42 year old male, 5'7", weighing 250#....quite a challenge.
Michael san / GA USA
---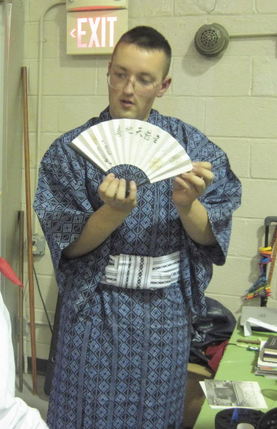 It is outstanding set of clothing! I definitely look forward to doing more business with you all. Arigato!
Aaron san / CT USA
---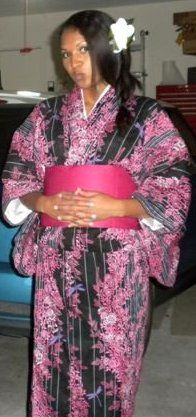 Yukata for Halloween? I was passing out candy this past year for Halloween and I seriously didn't have anything else to wear so I grabbed my yukata and stuck a robe under it to keep me warm. Believe it or not, it gets cold in Arizona!
Dina san / Tucson Arizona USA
---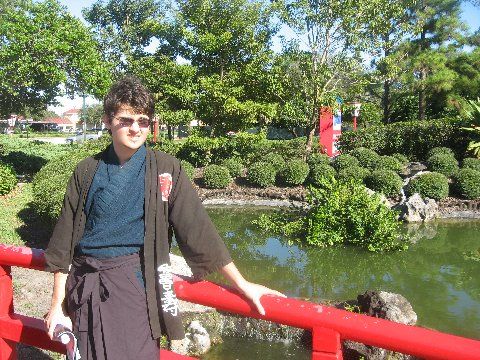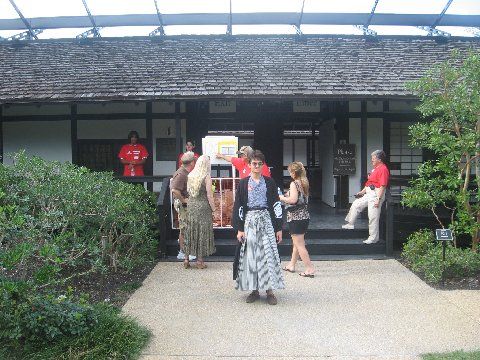 Morikami Bon Festival
Delray san / FL USA